Advanced Medical Imaging Technology
CAD 'Computer Aided Diagnosis' in Dynamic Breast Ultrasound
Therapeutic evaluation and early detection of breast cancer based on PET and PET-scan imaging modalities
Segmentation and Fusion of MRI Imaging Based on Advanced Techniques for the Characterization of Tumor Tissues
Characterization of neuro-degenerative diseases and tumors in functional brain MRI
Methods for detecting and monitoring multiple sclerosis through MRI sequences
Segmentation and image processing for the characterization of tumor angiogenesis for monitoring glioblastomas in perfusion MRI
Localization and classification of cancerous tissue by fusion of prostate SRM and MRI data
MRI Anatomic Fusion and MRI Perfusion for the Classification of Brain Tumors
Localization of active sources in brain structures: A statistical approach to the opposite problem in EEG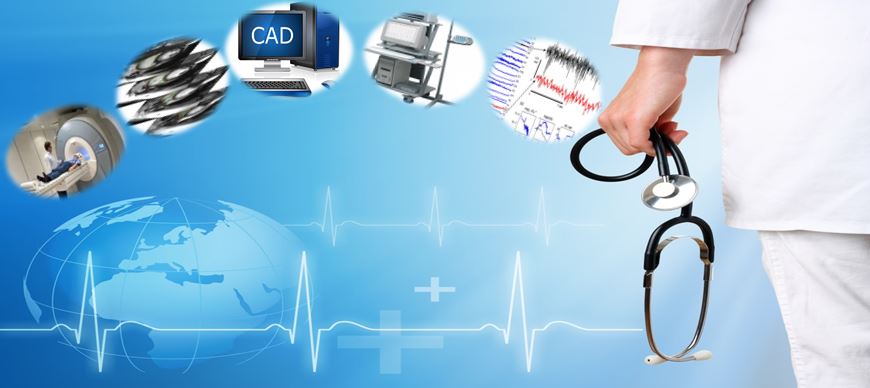 Medical image processing is an area that is starting to grow in the research unit, and is considered the most promising if it is to be realized. These are advanced technologies in medicine.
The medical image exists in several ways ranging from the simplest such as the simple image to radius 'X' classic up to sophisticated modalities such as MRI, fMRI, PET, PET-Scan and their combination.
Faire un traitement d'image médicale nécessite une adaptation des méthodologies de traitement à chacune des modalités à part. Bien évidemment, certaines approches peuvent s'adapter à une multitude de modalités, mais des fois la modalité visée exige une attention particulière du point de vue méthodologie.
Several problems can be considered in medical image processing for a specific purpose that is obviously clinical. With the technologies that are advancing by the day, these issues are developing more and more and more complex to meet the various clinical needs. Such research can be combined with the advanced technologies of equipment so sophisticated that they are, and obviously participate in their development.
Among the targeted research activities, computer-aided diagnosis (CAD) is a rapidly growing field of research that offers outstanding analytical, diagnostic and decision support capabilities, in clinic:
–Development of detection, segmentation and fusion algorithms to detect certain tumor-type malformations and to aid the diagnosis and the therapeutic evaluation of cancerous tissues:

Denoising, segmentation and classification in dynamic ultrasound for screening and diagnostic evaluation of breast lesions;
The detection and characterization of cancerous tumors in dynamic PET and PET-scan imaging for the evaluation of carbohydrate metabolism;
The characterization of brain tumors and neuro-degenerative diseases in MRI and functional MRI (fMRI);
Detection and monitoring of multiple sclerosis through MRI sequences;
Characterization of tumor angiogenesis for monitoring glioblastomas in perfusion MRI;
Motion detection in the case of myocardial imaging to detect certain abnormalities of the heart;

–Development of fusion algorithms between various imaging modalities. The primary goal is complementarity for diagnostic assistance in:

Localization and classification of cancerous tissue by fusion of prostate SRM and MRI data;
Localization and classification of brain tumors by fusion of anatomical MRI data and perfusion MRI;
The modalities thus treated are: EEG: Electroencephalography; MRI: Magnetic Resonance Imaging, fMRI: Magnetic but functional MRI, PET: Positon Emission Tomography; PET-Scan: Hybrid PET and Scan image.